JUDY PRICE
"Quarries of wandering form"
Multi-screen installation
25.03. - 02.06.2017

Opening 25.03. at 14:00

Curated by Malin Barth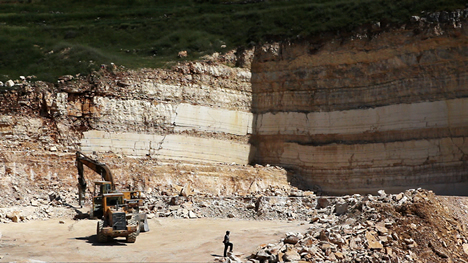 Quarries of wandering form excavates a number of narratives around the quarries in the Occupied Territories of the West Bank through film and photography.

White Oil is long form film that unfolds narratives around colonialism, expropriation of land and mobility through the day-to-day lives of the quarry owners, workers and security guards This includes their personal histories and experiences as well as the changing landscape and conditions of the quarries bringing to bear the myriad losses of land, economy, identity, history and community. Photographs of olive trees make visible the effects of the quarries on the surrounding landscape and symbolises a region that has been suffocated by the Occupation yet also resists and endures the violence to this landscape.

Judy Price works across photography, moving image, sound and installation and is interested in how art can create new perceptions of the experiences of individuals and social groups and arts' effectiveness and relevance to collective struggles. Her practice involves extensive field research where she explores sites and locations that are interweaved and striated by a multiple histories, economies and forces. She often employs multiple strategies drawing on images and sounds from archival sources as well as from a sustained study of a place that is resonant with overwritten histories and redrawn boundaries.
Judy Price (b. 1967, London, Britain). Her work has been exhibited and screened internationally including; UK (Imperial War Museum and Barbican, London and Tent Gallery, Edinburgh), Norway (Stiftelsen 3,14 and USF Centre Bergen), Canada (Galerie Leonard & Bina Ellen Art Gallery, Montreal), Germany (Kunshaus Cinema), and Palestine (Khalil Sakakini Cultural Centre, Ramallah and AlMa'mal Foundation for Contemporary Art, Jerusalem). In 2013 White Oil was screened at the Kunshaus Cinema, Nürnberg, Germany, and Palestinian Film Festival, Barbican, London.
Price is also a Course Director in Photography (MA) at Kingston University, and a Senior Lecturer in Moving Image (BA) at the University of Brighton.

Judy Price is also relevant with the parallel solo exhibition at The Mosaic Rooms in London, from April 7th through June 17th.
[www.worldofmatter.net/judy-price]
.........................................................................................................................


SIRI HERMANSEN
"Dreaming in the Stone-bed Valley"
Video, HD 1080p
25.03. - 02.06.2017

Opening 25.03. at 14:00

Curated by Malin Barth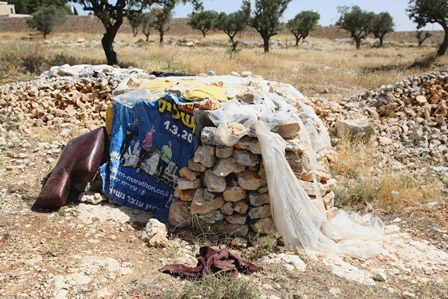 Dreaming in the Stone-bed Valley by Siri Hermansen is a non-verbal short-film with two micro stories that seeks to reflect on how the long term conflict turns the abnormal into the normal and the extraordinary becomes ordinary, and that this process of normalization is a survival strategy in itself. The stories express how human, nature and politics down to the smallest individual level are closely intertwined and affected by the long term conflict between Israel and Palestine. Temporary adaption and survival strategies become permanent solutions and part of everyday life. Duality can also be seen in her photographic image Two Horizons. Hermansen has for this work been traveling to Jerusalem and the West Bank. In her travels for work she seeks places that have undergone major upheavals or deep processes of change, that have affected globally. She is most concerned with how people and nature adapt and develop new survival strategies in places like the West Bank.


Siri Hermansen (b. 1969 in Geneva, lives and works in Oslo). Her work has been exhibited and screened internationally including; Sami Center for Contemporary Art, Kautokeini, Oslo Kunstforening, Stenersen Art Museum, Oslo, RAM Galleri, Oslo, Central House of Artists, Moscow, Fondazione Pastificio Cerere, Roma, Kunstbanken, Hamar, Tromsø Kunstforening, Møre og Romsdal Kunstsenter, UKS, Oslo, Sørlandets Kunstsenter, MK Gallery, Rotterdam, Seoul New Media Festival, 19th Biennale of Sydney, Detroit Contemporary, Tromsø Museum, Moscow Museums of Photography, Today Art Museum, Beijing, M. K. Čiurlionis National Art Museum, Lithuania, Haugar Kunstmuseum, Tønsberg, Oslo Kunsthall, Galerie Yoshii, Paris, France.

Siri Hermansen is otherwise relevant in the exhibition The Place Between Here and There at Akershus Kunstsenter in Lillestrøm, from March 24th through April 30th.
.......................................................................................................................

PARABOL - the parabolic loudspeaker at 3,14:
UTSPILL is a collective work with contributions by local artist in Bergen, that will be playing over the next three exhibition periods. It will expand as a work in progress, as more artist provides 3,14 with their explorations in sound about how we should relate to the fact that we live in a post factual era. The participating artists will be listed continuously at 3,14 and on the web site, under "sound".
[www.stiftelsen314.com/sound.htm]