JUDY PRICE
"Quarries of wandering form"
2014. Single screen HD, colour, stereo. 65 min.
25.03. - 04.06.2017

Opening 25.03. at 14:00

Curated by Malin Barth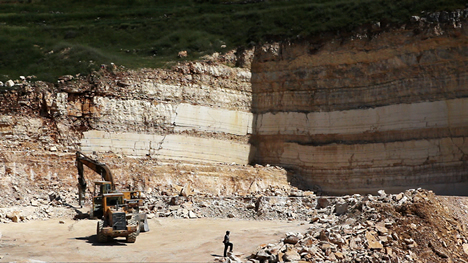 Quarries of wandering form excavates a number of narratives around the quarries in the Occupied Territories of the West Bank through film and photography.

White Oil is long form film that unfolds narratives around colonialism, expropriation of land and mobility through the day-to-day lives of the quarry owners, workers and security guards This includes their personal histories and experiences as well as the changing landscape and conditions of the quarries bringing to bear the myriad losses of land, economy, identity, history and community. Photographs of olive trees make visible the effects of the quarries on the surrounding landscape and symbolises a region that has been suffocated by the Occupation yet also resists and endures the violence to this landscape.

Judy Price works across photography, moving image, sound and installation and is interested in how art can create new perceptions of the experiences of individuals and social groups and arts' effectiveness and relevance to collective struggles. Her practice involves extensive field research where she explores sites and locations that are interweaved and striated by a multiple histories, economies and forces. She often employs multiple strategies drawing on images and sounds from archival sources as well as from a sustained study of a place that is resonant with overwritten histories and redrawn boundaries.
[www.worldofmatter.net/judy-price]
.........................................................................................................................


SIRI HERMANSEN
"Dreaming in the Stone-bed Valley"
Video, HD 1080p - 9:22 min.
25.03. - 04.06.2017

Curated by Malin Barth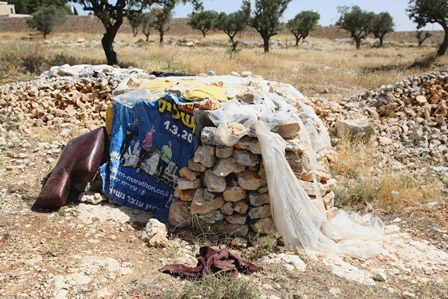 Dreaming in the Stone-bed Valley is a non-verbal short-film with two micro stories that seeks to reflect on how the long term conflict turns the abnormal into the normal and the extraordinary becomes ordinary, and that this process of normalization is a survival strategy in itself. The stories express how human, nature and politics down to the smallest individual level are closely intertwined and affected by the long term conflict between Israel and Palestine. Temporary adaption and survival strategies become permanent solutions and part of everyday life.