Jingyi Wang
Static theater #2: WHEN I AM TALKING TO YOU I AM NOT TALKING TO YOU
17.11. - 11.12.2016

> Performance première Thursday Nov. 17th at 19:00 - Opening of exhibition at 20:00

A series of performances will be held:
> Sunday 20 November at 13:00 and 15:00
> Thursday 24 November at 13:00
> Sunday 27 November at 13:00 and 15:00
> Thursday 1 December at 13:00
> Sunday 4 December at 13:00 and 15:00

NB! Only 20 tickets on sale for each performance
> https://teatergarasjen.ticketco.no/jingyi_wang1

The exhibition is opened:
> Tuesdays, Wednesdays and Fridays: 11:00-17:00
> Thursdays: 14:00-17:00
> Saturdays: 12:00-16:00
(Sunday Nov. 20 & 27 and Dec 4 only performance days)


When I am talking to you I am not talking to you is the second performance of Jingyi Wang's exploration of Static Theater. By integrating performance into exhibition the concept explores theater's potential for curation. Both a "white box" and a "black box" are used to create different contexts of presenting art works and performance. The performance makes use of interactive screens, video projections and audience participation to decentrailze the stage and disperse the focus of the spectator. Within this framework the piece investigates integration and the complex negotiation between parallel cultural identities and realities in our technological era.

> Contributing artists making artworks for the piece:
Håkon Holm Olsen
Helene Norseth
Nina Bang Larsen
Lona Hansen
Gabriel Johann Kvendseth
Sarah Jost
Lasse Årikstad

> Team:
Concept, director, curating and text: Jingyi Wang
Stage and light design: Leo Preston
Video art & editing: Yafei Qi
Live camera: Elias Björn
Programmer: Robert Fohlin
Technical advisers: BEK, WRAP Art Center

Co-produced by: BIT Teatergarasjen, in collaboration with Stiftelsen 3,14
Fund by: Bergen Kommune, Kuturrådet, Fond for Lyd og Bilde
The spiritual experience of being somewhere other than where you are, has been a philosophical issue since ancient times. Our contemporary technological reality poses new challenges to the topic. The deviation and negation between virtual and physical experiences get further complicated when cultural differences come into play.

Our activities on social media (Facebook, Twitter, Whatsapp, blog...) create a second life which questions our identity and reality. When living in a foreign country and culture, the internet can be used in an effective way to get information and keep in touch with the native culture. In this way online social media can cause tension between the assimilation of the new culture and the native background. On the other side, social media creates possibilities and strategies to negotiate and integrate the different cultures in one's life.

Jingyi Wang has experienced being an immigrant in many countries, and as part of the generation who grow up with internet, she presents the complex of realities: physical and virtual presence, realistic daily life and the surrealistic dreamy world, the cultural identity from the original background and the culture life of the host land.

The internet increases integration and fragmentation at the same time, and both facilitates and misleads the understanding between people. The issue should be reflected both in theater and contemporary arts. Static Theater presents an interdisciplinary expression to dissect the complexities of integration and parallel realities in a globalized world.

In WHEN I AM TALKING TO YOU I AM NOT TALKING TO YOU the audience are hedged by video walls which project alienated cultures and deviated communications. Different happenings are continuously causing distractions, through lighting, voice overs and text displayed on the the screens. Using a series of virtual images, platforms, passive and active works of art, the audience in this performance get an impression of the migrant's schizophrenic experience of reality, as a representation of their own, and feel the choices you are not given in contact with the authorities, who are also interested in questions of identity, such as the Norwegian UDI. The audience are invited to interact, chat and comment with their mobile phones during the performance, to deliberately challenge the centralized focus of a performance stage, and the closed space of gallery, measured against the limitless concurrency in our real lives.
Seven Norwegian artists have developed artworks for the piece which include sculptures, installations, an App., and two video walls created by the Chinese video artist Yafei Qi. The artists have individually interpreted the different perspectives on the subject matter, and together form the alienation between our communication and realities. The artworks are displayed in two different rooms : a classic black box, a theatre, and a white cube, a gallery where the audience determines their time and placement in front of the work. After the performance, audience are invited to walk and to look at each individual artwork in detail in both rooms.

Jingyi Wang is a Chinese born theater maker, based in Bergen, educated in global communication and performing arts. Her studies and works have kept her moving from one city to another, from Beijing to Hong Kong, Copenhagen, Brussels, Nice, and now Bergen. She has been working on the original idea and concept of Static Theater since 2014. Her first performance was presented in the spring of 2015 as part of BIT Teatergarasjen seasonal program at Studio USF. The performance Static Theater #1: THOSE THAT HAVE BEEN LEFT BEHIND dealt with how the people and places we have left behind still affect our lives, and presented static theatre as a concept: a mixture of the surfaces in visual art and theatre's play with time. The performance was recently invited to be part of the Nanluoguxiang Performing Arts festival in Beijing.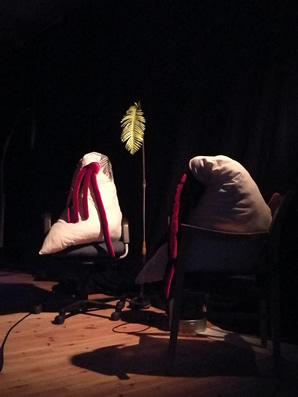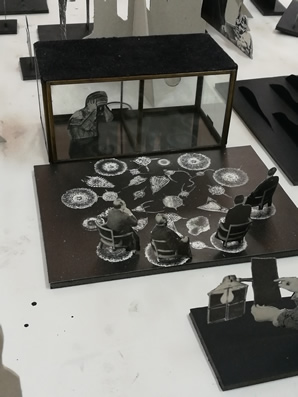 ..........................................................................................................................

> PARABOL - the parabolic loudspeaker at 3,14:
ANNIE GOH
Burning Kroner (2016)
17.11. - 11.12.2016

Whilst researching the location of Stiftelsen 3,14 at the Old Norges Bank at Vågsallmenningen, Bergen, I came across the myth that at some point during its usage as a bank, the management would order money to be burned in order to control national interest rates. Constructed in 1845 and decommissioned as a bank in the 1980s, the building now functions primarily as a space for contemporary art. Since the 2008 financial crash, whilst the rest of Europe's arts funding has suffered huge cuts, Norway's oil wealth has allowed its cultural scene to flourish, apparently bidding to spend 1% of total government budget on culture (Financial Times, 2012). In a sense, the use of the space of the former bank for art is a consequence of Norway's relative abundance of arts funding, looked upon jealously by European neighbours. Exploring the myth under the jocose title "Burning Kroner", with a nod back to K Foundation's infamous 1994 action "K Foundation Burn a Million Quid", the piece situated in the entrance hall to the gallery is an in situ sonic meditation on what it means to burn money for art.



Annie Goh is an artist and researcher working primarily with sound, space, electronic media and generative processes within their social and cultural contexts. Recent exhibitions and performances include Sexing Sound (Chicago, US), Inside-Out Art Museum (Beijing, CN), Höhlenmediale (Wendelstein, DE), White Building (London, UK), Arthackday at LEAP and transmediale (Berlin, DE) and Tokyo Wonder Site (Tokyo, JP). Recent publications in AUDINT's Unsound:Undead, n.paradoxa: feminist art journal & Flusseriana: An Intellectual Toolbox. She has co-curated the discourse program of CTM Festival Berlin since 2013 and is currently undertaking a PhD on echo and archaeoacoustics at Goldsmiths University of London.